Yucca mixtecana García-Mendoza
Thin-stemmed Oaxaca-Puebla Yucca.
Acta Botanica Mexicana 42: 1-5. 1998.

Type: Mexico, Oaxaca, district of Coixtlahuaca, municipal Tepelmeme, 15 km to the northwest of Tepelmeme, Oaxaca-Tehuacán highway, 1,690 m, xerophytic scrub with Agave salmiana, Beaucarnea purpusii, Dasylirion lucidum, Hechtia bursera, Gochnatia and Opuntia, 26. April 1996, A. GARCÍA-MENDOZA, A. GUTIERREZ and S. FRANCO 6198. (Holotype: MEXU, Isotypes: BM, ENCB, MO, OAX, TEX).
Other representative material studied.
fh 0347, Acatepec area, 1,920 m,
fh 0348, Santiago Chazumba, 1,870 m,
fh 0380, Tepelmeme area, 1, 700 m,
fh 0381, Zapotitlan, 1,600 m,
fh 0382, Coixtlahuaca, 1,750 m.

SPECIES LIST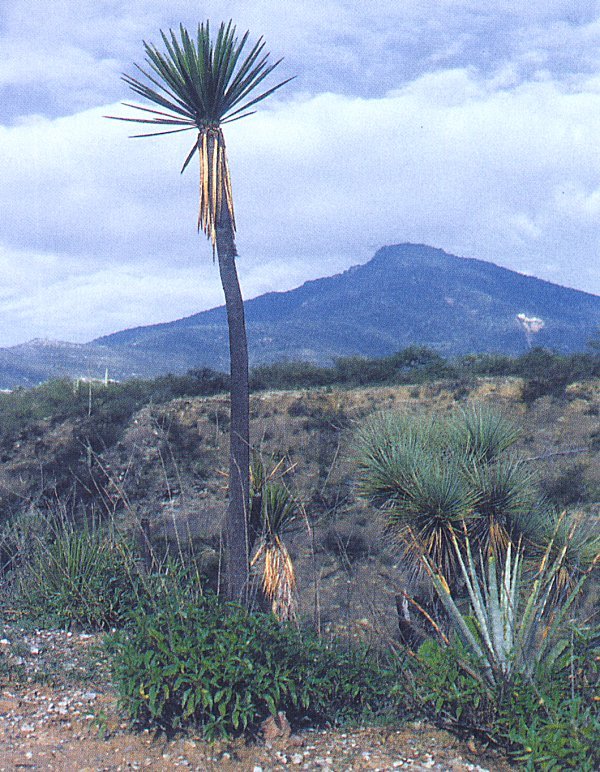 Yucca mixtecana, fh 0380, Tepelmeme, 1,700m.
The bare, narrow stenm is characteristic